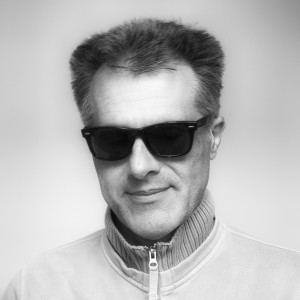 Croatian photographer Nenad Saljic, who trained as a mountaineer and caver in his youth, is above all an artist, inspired by his love of nature's most ancient textures, forms and shapes.
His exquisite black-and-white photography is a testament to his ability to capture nature's essence, whether it's his award-winning portraits of the Matterhorn, or the awe-inspiring depths of the Dalmatian caves, revealing earth's geological history.
His current projects include three artist books: A Portrait of the Matterhorn, Petrified, which will showcase his explorations of the Dalmatian caves and The Birth of a Ship, a photographic journal recording the reproduction of an historic wooden boat.
Saljic's passion for photography was redefined during a trekking expedition to the Himalayas: "Photography is how I see reality, it is a reflection of my emotions and my imagination, but sometimes hardly visible to the naked eye…"
COLLECTIONS (Selection)
Bibliothèque Nationale de France, Paris
Foto8 Gallery, London
Griffin Museum of Photography, Winchester-Boston, USA
The Center for Fine Art Photography, Fort Collins, USA
Museum of Arts and Crafts, Zagreb, Croatia
Private collections: USA, Canada, Norway, Switzerland, Germany, Hong Kong, UK, Croatia
EXHIBITIONS (Selection)
2014 Aperture Foundation Summer Open, New York City, July 17 – August 14, 2014
Sony World Photography Awards 2013, European Month of Photography, House of Art, Bratislava, Slovakia, November 5 – December 1, 2013
PHOTODAYS@MUO, Museum of Arts and Crafts, Zagreb, Croatia, September 3 – 29, 2013
Nenad Saljic, Solo Exhibition, Photo Gallery Split, Croatia, June 27 – July 15, 2013.
2013 Sony World Photography Awards Exhibition, Somerset House, London, April 26 – May 12, 2013.
Nenad Saljic, Solo Exhibition, Saxony Australia: The Galeries (Sydney), World Square (Sydney), Chatswood Chase (Chatswood), Doncaster, Chadstone, QV (Melbourne), February – May, 2013
Sylvia White Gallery – 2013 Collector's Choice, Ventura, CA, USA, January 2 – February 2, 2013
The Grand Prix de la Découverte, NoFound Photo Fair – in conjunction with Paris Photo and Paris Mois de la Photo, Paris, November 16–19, 2012
34th Zagreb Salon – International Exhibition of Photography, Mimara Museum, Zagreb, Croatia, November 6-24, 2012
The Art of Photography Show 2012, San Diego Art Institute, USA, September 29 – November 11, 2012
Sky and Sea, The Natural Wine Company, New York, February–May, 2012
Secrets and Mysteries, Darkroom Gallery, Essex Jct., Vermont, USA, July 5 – 29, 2012
Foto8 Summershow 2012, Foto8 Gallery, London, July 6 – August 18, 2012
Houston Center for Photography, 30th Annual Juried Membership Exhibition, USA, July 13 – Aug 26, 2012
Griffin Museum of Photography, 18th Juried Exhibition, Winchester-Boston, USA, July 19 – Sept 2, 2012
Worldwide Photography Biennial Exhibition, The Borges Cultural Center, Buenos Aires, Argentina, 2012
pdn + PhotoPlus International Conference + Expo, World in Focus Gallery, New York, 2011
AOP – Association of Photographers Open Exhibition, The Dray Walk Gallery, London, 2011
AWARDS (Selection)
The Prix de la Photographie Paris (Px3), 2014: Gold Award Winner
Sony World Photography Awards, London, 2013: Professional Landscape Photographer of the Year
IPA International Photography Awards, Los Angeles, USA, 2013: First Prize Winner – Book "Birth of a Ship": Fine Art Professional Category and Self Published Professional Category
PDN Photo Annual, New York, 2013: Winner – Personal Category
Photodays Rovinj, Croatia, 2013: First Prize Winner – Publications Category – Photobook "Birth of a Ship"
2012 National Geographic Photo Contest, USA, 2013: First Prize Winner – Places Category
Houston Center for Photography: 2013 Fellowships, Houston, USA, 2012: Fellowship Honorable Mention Recipient (Juror W.M. Hunt)
World in Focus, PDN Magazine, New York, 2012: Grand Prize Winner
30th Annual Juried Membership Exhibition, Houston Center for Photography, USA, 2012: Juror's Commendation / Beth Block Foundation Award (Juror Anne Tucker)
New York Photo Festival, 2012: Invitational Winner for forthcoming Photobook "Birth of a Ship"
B&W Magazine Portfolio Contest, USA, 2011: Spotlight Award
PUBLICATIONS / MEDIA (Selection)
Global Citizens, H&P, Ideos Publications Ltd., New York, London, Zurich, Hong Kong, 2013, ISBN: 9780957436282
Sony World Photography Awards 2013 Library, Professional Competition, Landscape Shortlist, Moleskine, www.moleskine.com/Photobooks, 2013
B&W Magazine, Issue #94, September 2012, USA
B&W+COLOR Magazine, Issue #87, December 2011, USA
AOP – Association of Photographers Open Awards 2010, London
CLIENTS (Selection)
Louis Vuitton, Paris
Louis Vuitton, China
Saxony, Sydney, Australia