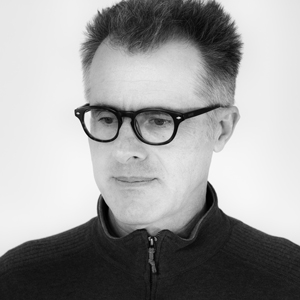 Nenad Saljic, born 1961 in Croatia, is a photographic artist. After obtaining a PhD in Economics and spending 18 years in the world of business, he decided to dedicate himself to his art projects.
Trained as a mountaineer and caver in his youth, Saljic is inspired by his love of nature's most ancient textures, forms and shapes. His black-and-white photography is a testament to his ability to capture nature's essence, whether it's award-winning portraits of the Matterhorn, or the awe-inspiring depths of the Dalmatian caves, revealing earth's geological history.
His current projects include four artist books: Matterhorn: Portrait of a Mountain (completed), Petrified, which will showcase his explorations of the Dalmatian caves, Birth of a Ship, a photographic journal recording the reproduction of a traditional wooden boat, and Naked Mountains, in colour.
His work has received numerous major awards, it is exhibited internationally and is also included in various international collections. Recognised for his aesthetic, Saljic's Matterhorn photograph was the choice of Louis Vuitton Men's Fall/Winter 2013/14 Collection.
Saljic currently lives and works in Split, Croatia.
COLLECTIONS (Selection)
Bibliothèque Nationale de France, Paris
Foto8 Gallery, London
Griffin Museum of Photography, Winchester-Boston, USA
The Center for Fine Art Photography, Fort Collins, USA
Museum of Arts and Crafts, Zagreb, Croatia
Private collections: USA, Canada, Norway, Switzerland, Germany, Hong Kong, UK, Croatia, Kuwait
EXHIBITIONS (Selection)
NENAD ŠALJIĆ.MATTERHORN: Portrait of a Myth \ Der Mythos im Porträt, Solo Show at KUNST ZÜRICH 15 , Switzerland, October 29 – November 1, 2015
NENAD ŠALJIĆ.MATTERHORN: Portrait of a Myth \ Der Mythos im Porträt, CERVO, Zermatt, Switzerland, July 10 – October 10, 2015
Sieben Künstler – ein Berg \ Seven Artists – One Mountain, KUNSTRÄUME Zermatt, Switzerland, July 10 – November 30, 2015
NENAD ŠALJIĆ.MATTERHORN: Portrait of a Myth \ Der Mythos im Porträt, GALERIE RIGASSI, Bern, Switzerland, June 25 – August 8, 2015
2015 International Juried Exhibition, Center for Photographic Art, Carmel, CA, USA, January 10 – February 28, 2015
36th Zagreb Salon – International Exhibition of Photography, Mimara Museum, Zagreb, Croatia, November 11-29, 2014
2014 New York Photo Festival – The PhotoWorld Exhibition, The POWERHOUSE Arena, New York City, September 26 – November 10, 2014
2014 Aperture Foundation Summer Open, New York City, July 17 – August 14, 2014
Sony World Photography Awards 2013, European Month of Photography, House of Art, Bratislava, Slovakia, November 5 – December 1, 2013
[email protected], Museum of Arts and Crafts, Zagreb, Croatia, September 3 – 29, 2013
Nenad Saljic, Solo Exhibition, Photo Gallery Split, Croatia, June 27 – July 15, 2013.
2013 Sony World Photography Awards Exhibition, Somerset House, London, April 26 – May 12, 2013.
Nenad Saljic, Solo Exhibition, Saxony Australia: The Galeries (Sydney), World Square (Sydney), Chatswood Chase (Chatswood), Doncaster, Chadstone, QV (Melbourne), February – May, 2013
Sylvia White Gallery – 2013 Collector's Choice, Ventura, CA, USA, January 2 – February 2, 2013
The Grand Prix de la Découverte, NoFound Photo Fair – in conjunction with Paris Photo and Paris Mois de la Photo, Paris, November 16–19, 2012
34th Zagreb Salon – International Exhibition of Photography, Mimara Museum, Zagreb, Croatia, November 6-24, 2012
The Art of Photography Show 2012, San Diego Art Institute, USA, September 29 – November 11, 2012
Sky and Sea, The Natural Wine Company, New York, February–May, 2012
Secrets and Mysteries, Darkroom Gallery, Essex Jct., Vermont, USA, July 5 – 29, 2012
Foto8 Summershow 2012, Foto8 Gallery, London, July 6 – August 18, 2012
Houston Center for Photography, 30th Annual Juried Membership Exhibition, USA, July 13 – Aug 26, 2012
Griffin Museum of Photography, 18th Juried Exhibition, Winchester-Boston, USA, July 19 – Sept 2, 2012
Worldwide Photography Biennial Exhibition, The Borges Cultural Center, Buenos Aires, Argentina, 2012
pdn + PhotoPlus International Conference + Expo, World in Focus Gallery, New York, 2011
AOP – Association of Photographers Open Exhibition, The Dray Walk Gallery, London, 2011
AWARDS (Selection)
The Prix de la Photographie Paris (Px3), 2016: Silver Award Winner – Book "MATTERHORN: Portrait of a Mountain"
PDN Photo Annual, New York, 2015: Winner
Prix de la Photographie Paris (Px3), 2014: Gold Award Winner
Sony World Photography Awards, London, 2013: Professional Landscape Photographer of the Year
IPA/Lucie Awards, Los Angeles, USA, 2013: First Prize Winner – Book "Birth of a Ship": Fine Art Professional Category and Self Published Professional Category
PDN Photo Annual, New York, 2013: Winner – Personal Category
Photodays Rovinj, Croatia, 2013: First Prize Winner – Publications Category – Photobook "Birth of a Ship"
2012 National Geographic Photo Contest: First Prize Winner – Places Category
Houston Center for Photography: 2013 Fellowships, Houston, USA, 2012: Fellowship Honorable Mention Recipient (Juror W.M. Hunt)
World in Focus, PDN Magazine, New York, 2012: Grand Prize Winner
30th Annual Juried Membership Exhibition, Houston Center for Photography, USA, 2012: Juror's Commendation / Beth Block Foundation Award (Juror Anne Tucker)
New York Photo Festival, 2012: Invitational Winner for forthcoming Photobook "Birth of a Ship"
B&W Magazine Portfolio Contest, USA, 2011: Spotlight Award
2010 National Geographic Photo Contest: Honorable Mention Winner – Nature Category
PUBLICATIONS / MEDIA (Selection)
Book Review: Nenad Šaljić – Matterhorn, Silvershotz Magazine, January 2016 – Volume 10, Edition 4, UK & Australia
Book Review: Nenad Saljic – Matterhorn: Portrait of a Mountain, Black & White Magazine, Issue 112, December 2015, USA
Global Citizens, H&P, Ideos Publications Ltd., New York, London, Zurich, Hong Kong, 2013, ISBN: 9780957436282
Sony World Photography Awards 2013 Library, Professional Competition, Landscape Shortlist, Moleskine, www.moleskine.com/Photobooks, 2013
B&W Magazine, Issue #94, September 2012, USA
B&W+COLOR Magazine, Issue #87, December 2011, USA
AOP – Association of Photographers Open Awards 2010, London